Jake's Ride for Dystonia Research
The 2013 Jake's Ride will take place on September 29, 2013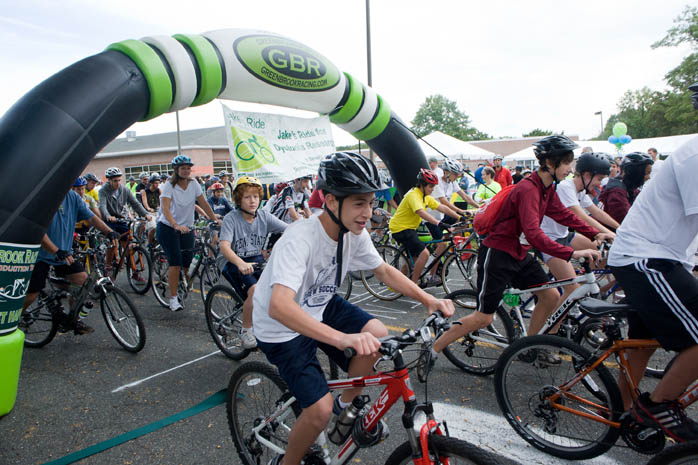 MISSION: To raise awareness and needed funds to find better treatments and a cure for dystonia through research.

Jake's Ride for Dystonia Research all began in 2007, when a young boy named Jake Silverman was diagnosed with early onset childhood dystonia. Dystonia is a neurological disorder that causes uncontrollable and, at times, painful spasms in one or more parts of the body. Treatment rarely brings remission and there is no known cure. It affects more than 500,000 people in North America and one-third of them are children. In 2008 Jake underwent Deep Brain Stimulation (DBS) a treatment for dystonia, at Massachusetts General Hospital. Three years after surgery, Jake is a sophomore in high school and while he has made significant progress, his dystonia is not cured.

After hearing of Jake's story, a neighbor and father of one of Jake's classmates named David Gardner, came up with an amazing idea to create a bike ride that would raise awareness and needed funds for this disorder.  He volunteered his time and expertise and with the help of the community, they were determined to make a difference. In 2008, The Silverman Family came to The Bachmann-Strauss Dystonia & Parkinson Foundation looking for a partner. The Foundation along with David Gardner and the community, launched the first Jake's Ride for Dystonia Research to help children and adults living with dystonia, like Jake. After only five years Jake's Ride already raised well over $1 million for dystonia research!  Your support brings us that much closer to making this dream come true and to finding better treatments and a cure.

Reporter, Jeff Glor, from CBS Evening News, captured the full story about Jake and his family's struggle with dystonia disease.  To watch the segment on Jake's Ride and dystonia click here.
CLICK HERE to visit the official Jake's Ride website, www.jakesride.org.
Connect with us to find out the latest news on Jake's Ride:
Contact Marissa Levey for information about the 2013 event.